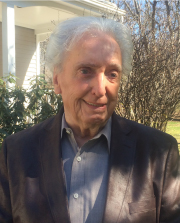 "When I was a child, I was cared for by Catholic Charities. I was placed at St. Francis Home in New Haven. There, the Sisters took care of me and I grew up." This is how Jimmy Miller tells the story of his early life. A family named Miller adopted Jimmy and he took the family name.
Upon enlisting in the Navy, Mr. Miller was assigned to the Seabees (Construction Battalion) and served in the Pacific Theater during World War II. When he returned to the New Haven area, be began a tradition that started in 1946. He visited St. Francis Home every year on Christmas Eve and made a contribution to help make the lives of the children a little better.
​After an education in Europe, Jimmy returned to the New Haven area and began a string of businesses that over the years made him a successful businessman with literally hundreds of friends and acquaintances throughout the region. Still, every year, on Christmas Eve, Jimmy would return to St. Francis Home with a gift.
"I learned from my experiences at St. Francis Home and afterward, that no one was going to give it to me. I had to earn it. But I also learned that I should give back and St. Francis Home was my special charity," Jimmy reflected.
In subsequent years, Jimmy chose to also support Mount Saint John. He became an important bridge builder for these two colleague agencies, working together to improve the quality of behavioral healthcare for children and adolescents in Connecticut. "I wanted some of my good friends to share in my giving. I would invite them to dinner in early December and ask them to make a gift to support these organizations. I would try to match the gifts and would take the money to St. Francis Home and Mount St. John in the days before Christmas," said Jimmy.
With the support and encouragement of those close friends who are Jimmy's companions, the dinner was expanded in 2002. It was decided the dinner would always be held on the first Tuesday in December. That year, over 300 men attended the dinner at Anthony's Ocean View. In 2003 and 2004, the number swelled to more than 600 attendees.
In 2008 The Friends of Jimmy Miller, Inc. applied for and received IRS 501 (c) (3) tax exempt status as a private foundation. This deems donations to the organization tax deductible. Jimmy is proud of the fact that the organization has an all-volunteer committee. He is also proud of the fact that each year, 100% of the net proceeds is distributed to worthy non-profit organizations in need.
The amount of money raised each year has steadily increased along with the number of people attending. The dinner now regularly attracts over 1,000 attendees. The net proceeds are distributed to as many as 15 various non-profit organizations benefiting children in need. Since the expansion of the dinner in 2002, the organization has raised over $2,000,000 for programs benefiting children in crisis.
The funds are given to agencies with programs and projects that directly benefit the children. None of the funds are to be used for organizational overhead. Jimmy said, "I want these funds to be used for the children as a way of allowing them to have access to the sorts of activities and opportunities that children who live with their families have. I can see that having these nice things can provide the children with incentives to cooperate with the treatment programs. I feel I can relate to the young people in these organizations. I want them to know that if you are willing to work hard, there are no limits to what you can do. I know that some of them feel sorry for themselves and can develop a mentality that they are trapped. But all they have to do is look at me. I had nothing when I began I worked hard and have done well. But just as important, I want to give back."